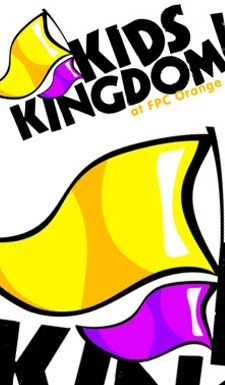 Your kids will love our interactive Children's program – Kids Kingdom! The program includes all of the things that adults do in church…and more!  We sing, we learn about the Bible, we make stuff, we play crazy games, we draw, we laugh, we pray, and we have a great time doing it!  Your kids will want to come back again and again!
Days and Times:
Sundays: 9:45-11:30 am, Kid's Kingdom
Children can be signed into their class prior to worship and we'll walk them to the Sanctuary for the children's message. Alternatively, they can stay with their families for the beginning of worship and leave for their class after the children's message.
Pentecost Party / Messy Sunday for Kids!
We will be learning about Pentecost, which is the birthday of the church. We'll also be working on a project to help decorate the Sanctuary. Come to one or all the gatherings. The learning time for each day will be unique but the group project will be ongoing at all three events. Join us for some hands on fun and fellowship!
Schedule: 
Tuesday, May 16th & 23rd, 6:30-7:30 pm, Lion's Den – for elementary age kids.
Messy Sunday, May 21st, 10:15 am, Courtyard – for all ages.
Tuesday Evenings: Activities and workshops provided on a seasonal basis. Check press for future events.