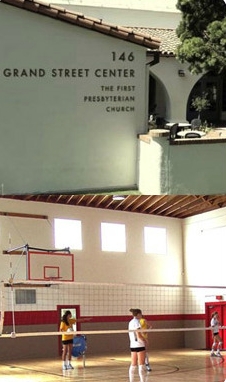 The First Presbyterian Church, through its Grand Street Center (GSC), seeks to create benevolent partnerships with agencies, organizations and individuals in Orange that promote youth, nurture education and recreation, build community alliances downtown between cities and churches, present citizens with opportunities to contribute their gifts and abilities in neighborly service and to demonstrate the love of God in social ministries.
The congregation of the First Presbyterian Church of Orange searched for a way to extend our ongoing Mission and Outreach activities within the community. In January 2005, we purchased the building at 146 N. Grand Street, which is adjacent to our church campus, to extend our Mission and Outreach.
After months of work and many volunteer hours, the Grand Street Center (GSC) emerged. As the 57 year old gym was restored, steps were taken to allow us to support both basketball and volleyball. There is a shortage of places where kids (8-14 years old) can go and learn the exciting game of volleyball and we wanted to change that! Our goal was to provide a place where children can learn fundamentals of these sports, and most importantly learn the value of getting along with others and of good sportsmanship. It has been a blessing to hear children running and laughing as they rediscover these sports in downtown Orange.
The GSC offers space for groups and organizations to meet. Our full kitchen and gym can support sit-down banquets and formal events of up to 200 people. Our two large multipurpose rooms are a great place to have a meeting or a small get together. Other non-profit organizations that use the facility include New Hope and Portico Churches, 1888 Center, Miss Orange and numerous youth sports teams associated with the National Junior Basketball League.
For more information about the GSC and its programs, or to schedule use of the facility, contact the church office: 714 538 2341.