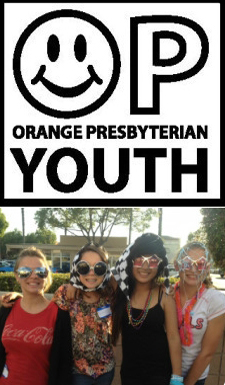 O.P. Youth Group is Here!
Games, Fun, Friends and Jesus!
Come and learn about how much God loves you!
Parents…
Like us, you have probably been wondering, "What can we do with all of these 11, 12, 13 & 14 year-olds running around loose everywhere?" You may also be thinking, "Isn't there some place they can all gather together and learn more, on their own level, about the life Jesus has in store for them?".
Days & Times:
Sundays: 9:45-11:30 am, Sanctuary
Youth group participants meet in worship and leave for their class after the children's message.
Tuesdays: 6:30-8 pm, Youth Lounge in the Basement
In addition to our Sunday school classes for 6-8th Grades, we offer an escape from staring at the computer screen or racking up cell phone minutes. We promise to take good care of them!
Dodgeball Tournament
Saturday  |  May 20th  |  1:30-4:00 pm  |  Grand St. Center Gym
FPCO will be hosting a Dodgeball tournament for youth groups in the Los Ranchos Presbytery. Teams of 8 middle and high school students will be competing for bragging rights as the best Dodgeball playing youth group in the Presbytery. Even smaller churches are encouraged to bring their students to join together with kids from other churches and perhaps share the glory! Registration begins at 1:30 pm and the tournament begins at 2:00 pm. The youth group from Canyon Hills Presbyterian Church is providing a BBQ dinner, and worship afterwards at New Hope's 5:00 pm service (Location: First Pres. Church) is available. This event is an effort by youth group leaders to renew connections between our Los Ranchos Presbytery churches. FPCO is proud to be a part of this endeavor! Contact Norma Galeana (
norme99@aol.com
) or Sarah Tannas (
sarahkathleent@gmail.com
) if you would like to register.
Messy Sunday
Sunday  |  May 21st  |  10:15 am  |  Courtyard
We will be learning about Pentecost, which is the birthday of the church. We'll also be working on a project to help decorate the Sanctuary. Join us for some hands on fun and fellowship!
Dessert & Fellowship for Youth
Friday  |  May 26th  |  7:00-9:00 pm  |  Off-site
Join with other kids from the Presbytery to hear from Youth Triennium speaker Rodger Nishioka at St. Mark Presbyterian Church in Newport Beach. We'll have dessert, play some games and then hear from Rodger. This is an evening of fun and fellowship for middle and high school kids and a great chance to hear from an inspiring speaker. We'll be renting a van and driving together to this awesome event. Contact Norma Galeana (
norme99@aol.com
) or Sarah Tannas (
sarahkathleent@gmail.com
) to sign up.