Our Deacon / Congregational Life committee is dedicated to providing fun and exciting social activities within the life of our church. Activities include movie and game nights, karaoke nights, trips to Angels games, regional day trips and so much more. They are supported by our long-term groups: Flagship, Windjammers and Women Connected, who together provide activities for all ages of adults. Contact the church office for more information.
---
Forthcoming Events: 
Tuesday Nights
Tuesdays  |  6:00 pm  |  Church campus
Tuesday Night Together (TNT), 6:00 pm – TNT is a program designed specifically for adults who are developmentally challenged. We prepare a home-cooked meal, teach a developmentally appropriate Bible Study, participate in the TNT choir, and create meaningful friendships and personal relationships with God. Meets in McAulay Hall. Contact Liz Calvo for further information.
OP Youth, 6:30 pm – Bring your middle-schoolers to us! Fun, Friends, Sillyness, Bible Study and more! Every week for 6th to 12th Grades in the Chapel, led by Sarah Tannas.
Empowered by the Word Women's Bible Study, 6:30 pm – Our weekly women's Bible study has changed in name only! Childcare is available for this class upon request.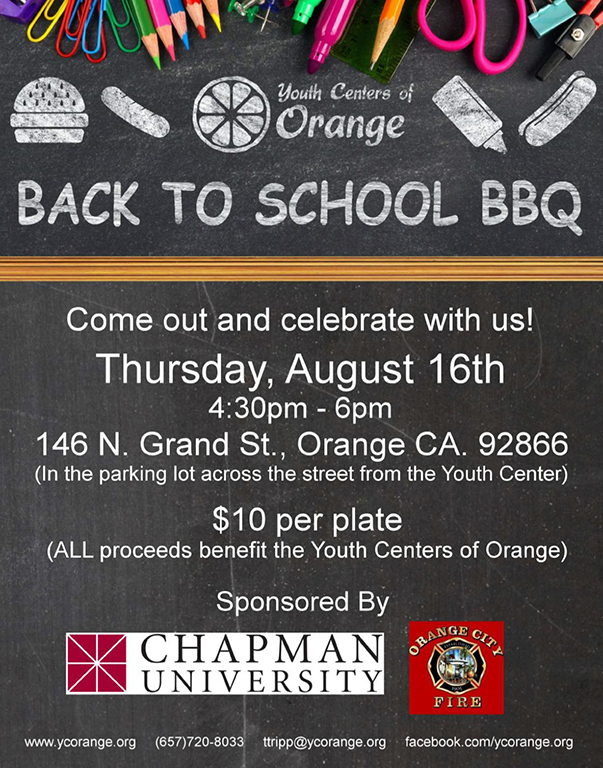 School Supplies Drive & Blessing of the Backpacks
Sunday  |  August 19th  |  10:00 am  |  Sanctuary
Our 3rd Annual Blessing of the Backpacks is coming up! All school-aged students (preschool through college) are encouraged to bring their backpacks to church and will be invited to the chancel area for a blessing on themselves and their backpacks as they begin a new year of school.
In partnership, the Mission Committee is inviting the congregation to participate in a backpack and school supply drive to benefit low-income children in our community. Help make the beginning of the school year a special time for children in need by bringing your donations to the church office by 4pm on Thursday, August 16th. If you are unable to purchase supplies but would like to help, you can put a donation in the offering plate (checks made out to First Presbyterian Church of Orange) marked "School Supplies". All materials collected will be blessed alongside our students and their backpacks on August 19th. It's a great day to bring grandkids or kids' friends, or friends' kids, as well! Please tell anyone you think would like to participate or donate!
Book Club
Wednesday  |  August 22nd  |  11:30 am  |  E107
In August, the Book Club will be reading and discussing Maisie Dobbs by Jacqueline Winspear:
Maisie Dobbs isn't just any young housemaid. Through her own natural intelligence – and the patronage of her benevolent employers – she works her way into college at Cambridge. When World War I breaks out, Maisie goes to the front as a nurse. It is there that she learns that coincidences are meaningful and the truth elusive. After the War, Maisie sets up on her own as a private investigator. But her very first assignment, seemingly an ordinary infidelity case, soon reveals a much deeper, darker web of secrets, which will force Maisie to revisit the horrors of the Great War and the love she left behind. 
Please join us with a sack lunch and participate in an interesting book discussion.
Bridge
Wednesday  |  August 22nd  |  1:00 pm  |  Choir Room
Join your fellow gamers for fun, dessert and refreshments. $2. Friends, neighbors and relatives welcome!
Memorial Service for Larry Schilder
Saturday  |  August 25th  |  10:00 am  |  Sanctuary
Church family are invited to remember the life of long-time church member Larry Schilder next month. A luncheon will follow in McAulay Hall following the service.
Family Ministries Book Study for Parents
Sunday  |  August 26th  |  11:15 am  |  E101
The Blessing of a Skinned Knee – a book study for parents.
Internationally known clinical psychologist and lecturer Wendy Mogel's sage reflections on raising children in a world where entitlement and competition abound, have struck a chord with thousands of readers. In a culture whose values are often at odds with the ones parents wish to uphold and instill, The Blessing of a Skinned Knee points the way to raising self-reliant, compassionate and ethical children. Led by Nancy Blake. Please read chapters 9-10 before the class. New attendees should purchase their own copy of the book. Childcare will be provided but please bring a snack for your kiddos.