Our Deacon / Congregational Life committee is dedicated to providing fun and exciting social activities within the life of our church. Activities include movie and game nights, karaoke nights, trips to Angels games, regional day trips and so much more. They are supported by our long-term groups: Flagship, Windjammers and Women Connected, who together provide activities for all ages of adults. Contact the church office for more information.
---
Forthcoming Events: 
Worship With Us on Facebook!
Sundays  |  10:00 am

Thank you to those of you that have been joining us for Worship via our Facebook Video Premieres. Log on at 9:50 am for a time of greeting and fellowship messages prior to the service if you wish. Please note that the service recording is available to watch on our Facebook page any time afterwards.
You do not need to be logged in to Facebook to watch, but for those of you that have Facebook accounts we would recommend that you are logged in to skip any login prompts and to comment or send messages. 
 Permission to podcast/stream the music in our services obtained from ONE LICENSE, License #A-733080.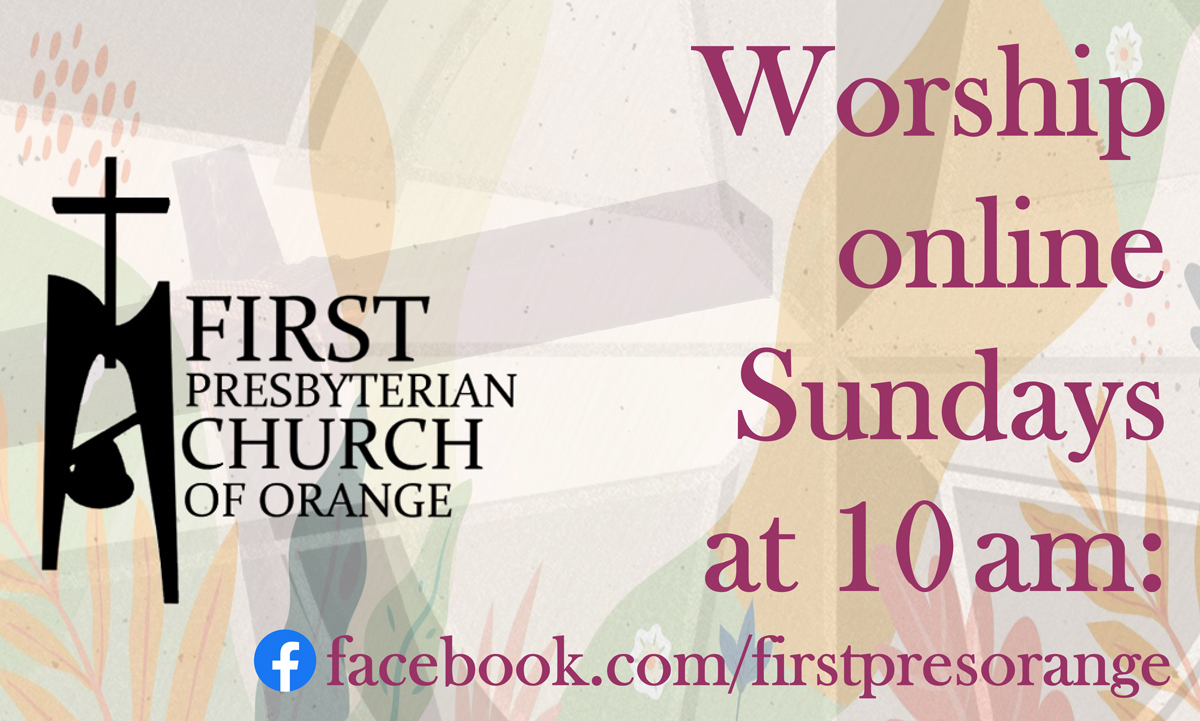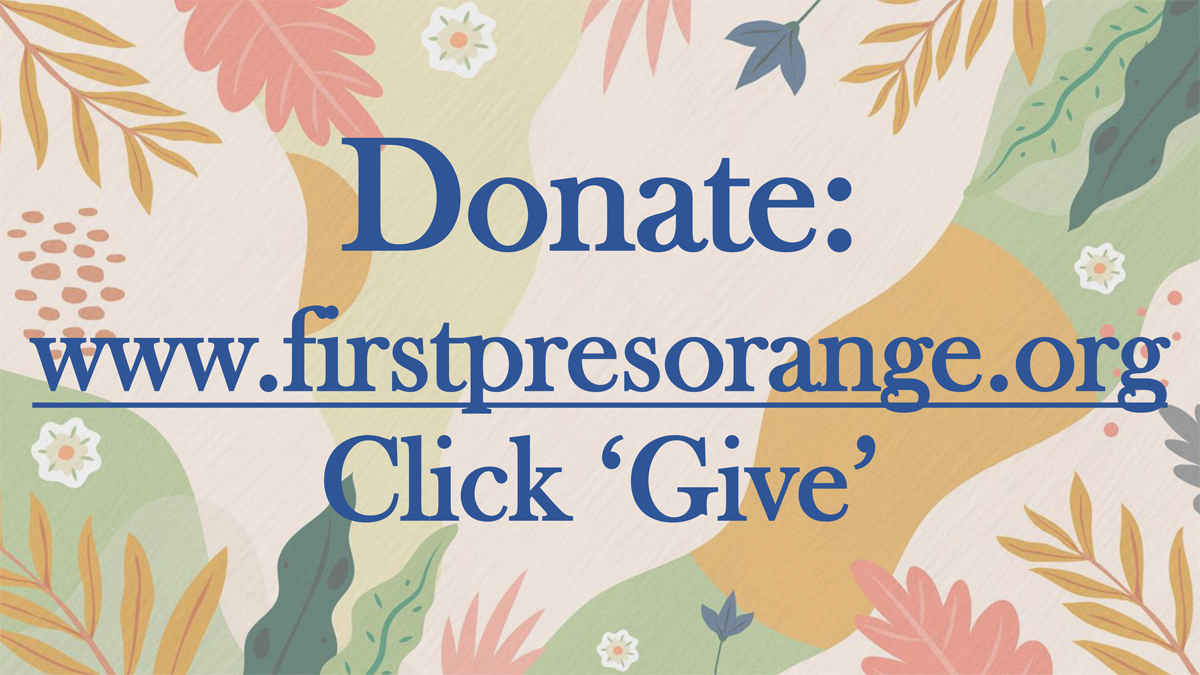 Word & Wine Livestream
Wednesdays  |  5:30 pm

Pastor Winston is also offering his weekly Word & Wine class as a Facebook livestream option during this period of isolation. Why not pour yourself a glass and settle in on the sofa?
You do not need to be logged into Facebook to watch as we have a public page – you just need an internet connection! Every week Pastor Winston offers a behind the scenes look at the upcoming lectionary passage that will be used in the sermon. Contact him to join our Word email list:
rwinston@firstpresorange.org
.
Virtual Sunday School
Sundays  |  11:30 am

The Kid's Cove really misses all of our children! We are offering virtual Sunday School each week right now, so you can log your kids on for some fun, games and learning. Contact Violet Fenton to be included on her special email access link to this event:
violet@firstpresorange.org
.
Virtual Messy Sunday
Sunday  |  May 31st  |  11:30 am

We will be offering a Virtual Messy Sunday for your treasured ones. Messy Sunday packages will be available and will be mailed ahead of time to families that wish to participate. Please contact Violet Fenton if you would like to receive a mailer and to receive the sign-in information: 
violet@firstpresorange.org
. Our theme will be 
Rocky Railway
.
Sewing Protective Masks
Attention all seamstresses, quilters, and tailors! We need your skills! Due to a sharp rise in the need for face masks by the medical community and beyond, the United States is facing a shortage. Several domestic manufacturers and small businesses have pivoted to shift production to help supply the health care industry and the general public with these much needed face coverings. And, in dwellings across the country, home sewists of all ages have stepped in with their fabric stashes to stitch up their own contributions, including several of our church members. Handmade cotton face masks are still being collected for donation to local hospitals, shelters, and care facilities. Any quantity will be gladly accepted and greatly appreciated. "Sew" far, 60 masks have been delivered to St. Joseph's Hospital in Orange. THANK YOU to all who have contributed! If you have masks to donate, are interested in sewing and need a pattern, or are in need of masks yourself, please contact Jennifer Keniston at
jenniferkeniston@gmail.com
.