Our Deacon / Congregational Life committee is dedicated to providing fun and exciting social activities within the life of our church. Activities include movie and game nights, karaoke nights, trips to Angels games, regional day trips and so much more. They are supported by our long-term groups: Flagship, Windjammers and Women Connected, who together provide activities for all ages of adults. Contact the church office for more information.
---
Forthcoming Events: 
FPCO Contemporary
Sundays  |  10:00 am  |  Flippen Chapel
Led by Vanguard University graduates Chris Dickens and Shane Costa, our new Contemporary Worship service is an addition to our Sunday morning program. Our Contemporary service provides a worship experience geared more towards young families and college students looking for a church home. Of course everyone is welcome, and our Traditional service will continue as ever for those who prefer the familiarity of hymns, choral music and a traditional liturgy. The great part is whichever service you attend you will still have the opportunity to send your kids to our awesome Kid's Cove, enjoy fellowship together, and attend Pastor Winston's Faith & Practice class at 11:20 am!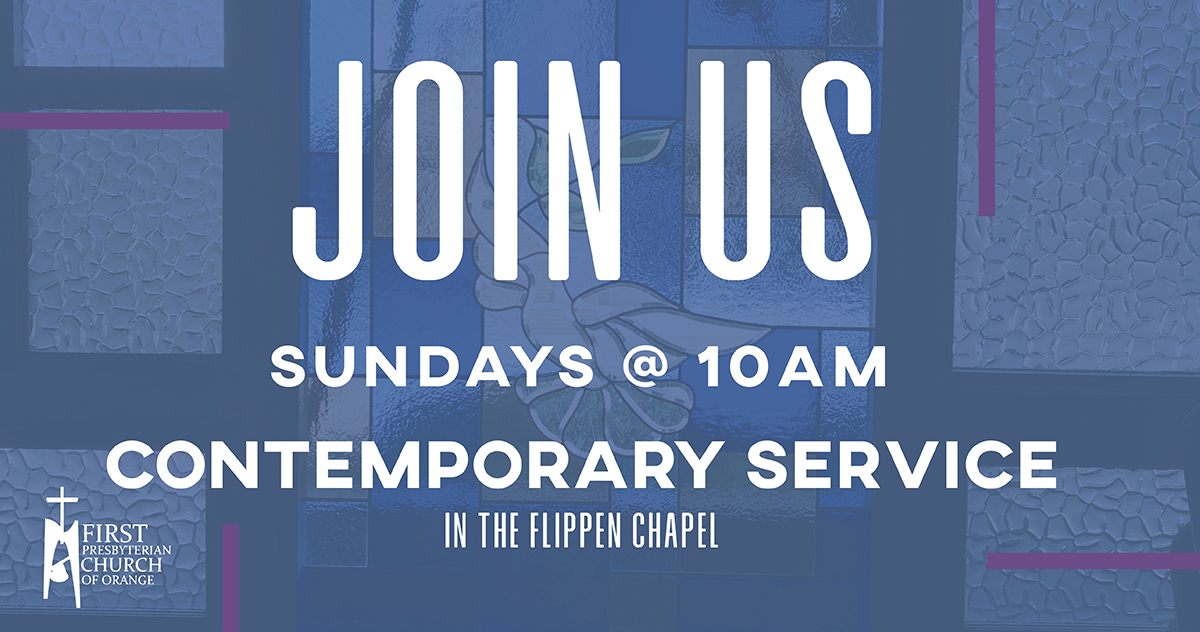 Tuesday Nights
Tuesdays  |  6:00 pm  |  Church campus
Tuesday Night Together (TNT), 6:00 pm – TNT is a program designed specifically for adults who are developmentally challenged. We prepare a home-cooked meal, teach a developmentally appropriate Bible Study, participate in the TNT choir, and create meaningful friendships and personal relationships with God. Meets in McAulay Hall. Contact Liz Calvo for further information.
OP Youth, 6:30 pm – Bring your middle-schoolers to us! Fun, Friends, Sillyness, Bible Study and more! Every week for 6th to 12th Grades in the Chapel, led by Sarah Tannas.
Empowered by the Word Women's Bible Study, 6:30 pm – Our weekly women's Bible study has changed in name only! Childcare is available for this class upon request. Meets in the Grand St. Center, North Room. Led by Jean Ann Duckworth.
Giving Thanks Dinner
Friday  |  November 22nd  |  6:30 pm  |  McAulay Hall
Our annual Giving Thanks Dinner is an opportunity to share how meaningful our Church family is to all of us: through Worship, fellowship, food and song. 
Please RSVP to the church office and let us know how many will be in your party: 714 538 2341 or 
james@firstpresorange.org
. 
Volunteers are also needed to help prepare the meal, room setup, as well as cook items at home and bring to the church.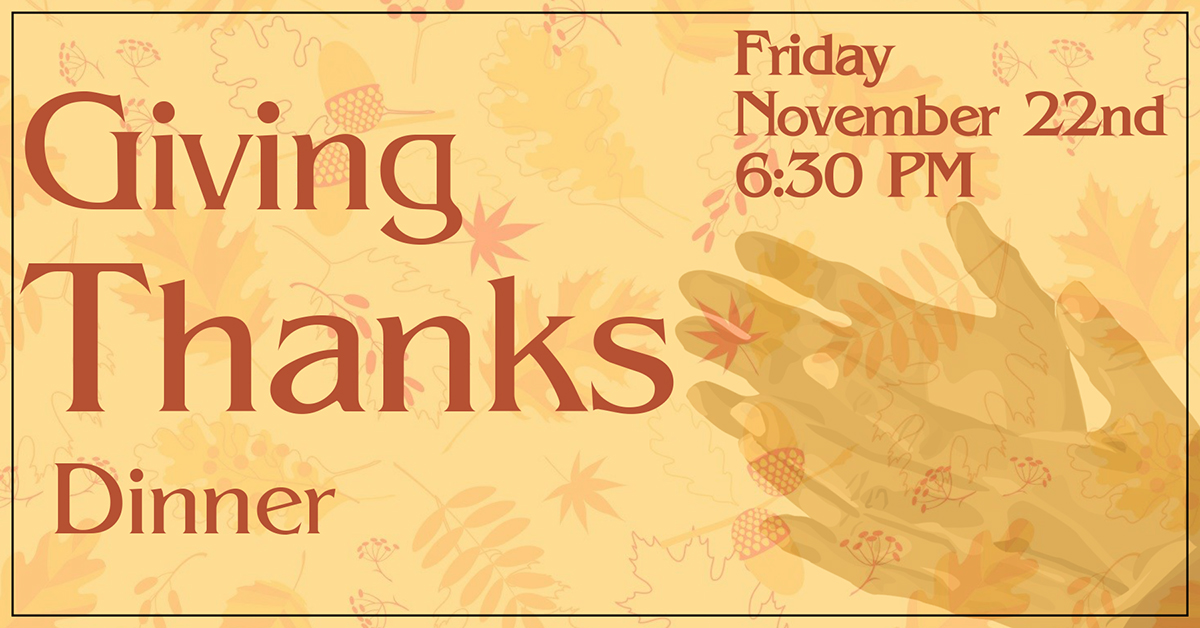 Lydia Circle
Saturday  |  November 16th  |  10:00 am  |  McAulay Hall
Our 3rd Saturday study for this year is from the book Love Carved in Stone by Eugenia A. Gamble: What would it mean to consider the Ten Commandments not as a harsh list of what not to do but, instead, as a "love letter" from a loving God? A fresh embrace of the Ten Commandments (or Words), may ultimately contribute to the restoration of ourselves and our communities and the furthering of the gospel in the world. "Moral behavior matters, not simply because immoral actions can anger or disappoint God, but because principled behavior is how love becomes real, both toward God and in community." Love Carved in Stone is a Bible study that helps us re-frame the way we look at and live in the world. Come see what Women Connected's Circle group is all about.
Presbyterian Women Fall Gathering
Saturday  |  November 16th  |  9:30 am-12:00 pm  |  Off-site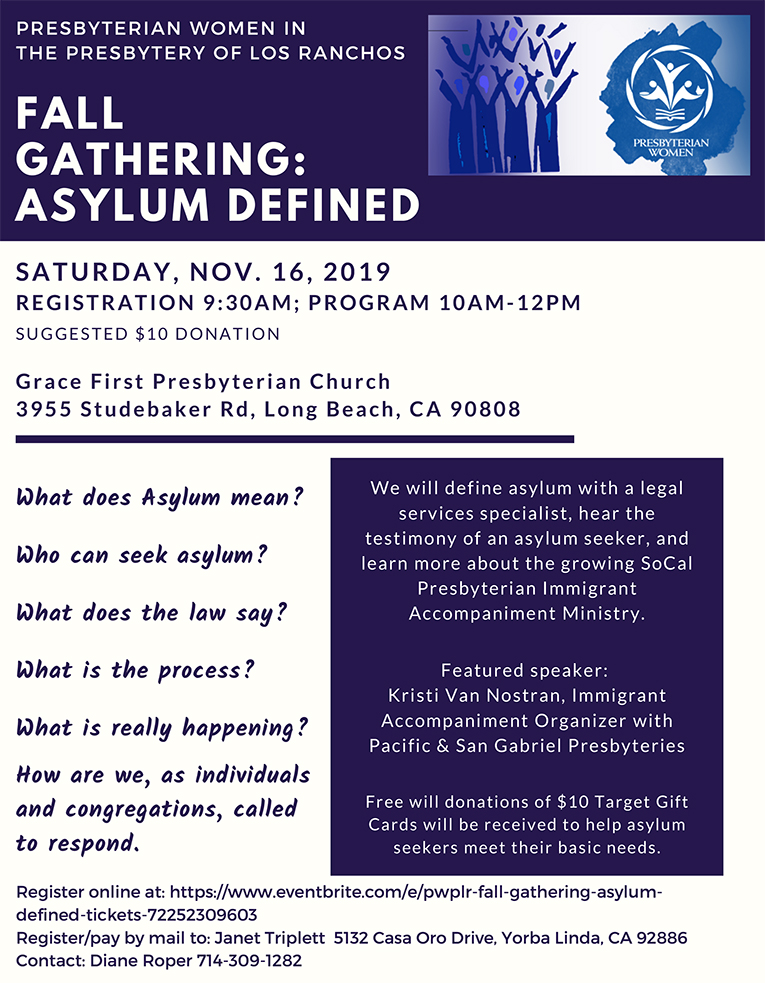 Messy Sunday
Sunday  |  November 17th  |  From 10:00 am  |  McAulay Hall
Your young ones are invited to join our activities which will include a service project preparing food bags for those less fortunate in our community. Participants are asked to bring donations of non-perishable foods for bags.