Our Deacon / Congregational Life committee is dedicated to providing fun and exciting social activities within the life of our church. Activities include movie and game nights, karaoke nights, trips to Angels games, regional day trips and so much more. They are supported by our long-term groups: Flagship, Windjammers and Women Connected, who together provide activities for all ages of adults. Contact the church office for more information.
---
Forthcoming Events: 
Tuesday Nights
Tuesdays  |  6:00 pm  |  Church campus
Tuesday Night Together (TNT), 6:00 pm – TNT is a program designed specifically for adults who are developmentally challenged. We prepare a home-cooked meal, teach a developmentally appropriate Bible Study, participate in the TNT choir, and create meaningful friendships and personal relationships with God. Meets in McAulay Hall. Contact Liz Calvo for further information.
OP Youth, 6:30 pm – Bring your middle-schoolers to us! Fun, Friends, Sillyness, Bible Study and more! Every week for 6th to 12th Grades in the Chapel, led by Sarah Tannas.
Empowered by the Word Women's Bible Study, 6:30 pm – Our weekly women's Bible study has changed in name only! Childcare is available for this class upon request. Meets in the Grand St. Center, North Room. Led by Jean Ann Duckworth.
Save The Date For VBS 2019!
Monday-Friday  |  June 24th-28th  |  9:00 am-12:00 pm  |  Church campus     
Howdy! Grab your saddle as we get ready to ride out – headed for Giddyup Junction VBS 2019! Each day will be chock-full of western-style fun and good news from the Bible about what Jesus did for us! 
Ages 3 Yrs-6th Grade. Cost is $30 for the week per child.
 Register in person on Sundays, or 
download a registration form
 and 
pay online
 using our secure payment portal with Faithstreet (be sure and select 
Vacation Bible School 2019
 under the 'select a fund' tab). Contact 
Violet Fenton
 for more information: 714 538 2341 x.110.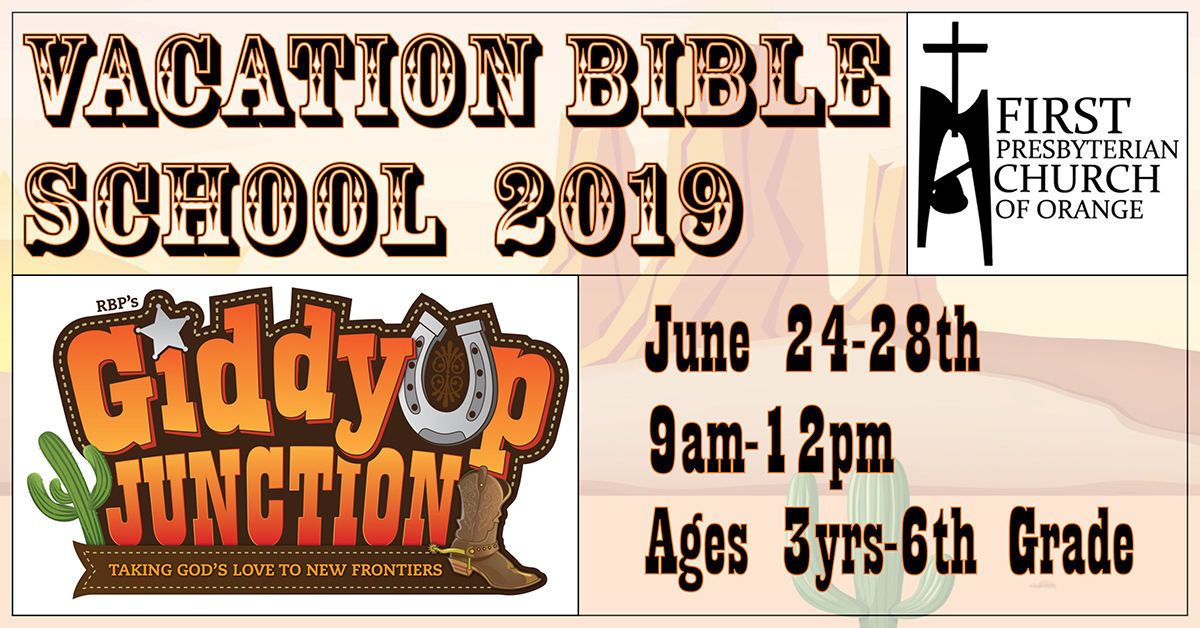 Women Connected Spring Gathering
Saturday  |  June 1st  |  10:00 am  |  McAulay Hall
Our Spring Gathering promises to be a special time as we reveal who is honored as our Woman of the Year for 2018. Then, our program by Courtney Ellis, speaker, author, and Associate Pastor for Spiritual Formation and Mission at Presbyterian Church of the Master in Mission Viejo. Her topic is "Uncluttered". She will talk with us about how uncluttering our lives of too many possessions, too much technology, and too much on our schedules frees us to "slow down long enough for God to remind us of His truth and what it means to be his child."
Items For Casa Teresa:
In conjunction with our recent 
Homelessness Buffet of Educational Experiences 
organized by PW of the Presbytery, we will be collecting new items for Casa Teresa until the June 1st Gathering. FPCO has long supported Casa Teresa and we hope you will participate. Here is what is on their wish list for layettes that are given to each mother for their babies: 
Newborn diapers: sizes 1 & 2;
Baby bottles; Pacifiers;
Receiving blankets; Boppy Baby grooming kit; Baby toy, rattle or educational toy; Stuffed animal w/sewn in eyes – (no button eyes!); Nursing Pads; Swaddlers; Baby bath tub; Diaper Bag;
Baby~Toddler DVD;
Baby Wipe Containers & Wipes;
Burp cloths; Sleepers; Baby Shampoo & Baby Body Wash; Baby Lotion; Shoes; Socks; Hats; Bibs; Nice outfits; Onesies; Gowns.
Flagship
Friday  |  June 14th  |  6:00 pm  |  McAulay Hall
Please join us for a special Flag Day themed patriotic and inspirational program offered by our special guests who are members of the Patriot Guard. Don't know who/what that is? Come and find out! Remember – it's Flag Day – so feel free to dress accordingly. SCHEDULE:
Dinner: 6:00-6:30 pm:
Nothing more appropriate for Flag Day than Cane's fried chicken plus all the usual fixin's. This is an All-American dinner so don't forget to bring your appetite! Dinner Cost: $5 per person at the door.
Dessert & Business Meeting: 6:30-7:00 pm:
Enjoy dessert while we conduct our business meeting. After the short business meeting we'll have our traditional GIANT RAFFLE. If you have a birthday or anniversary in June or July then please bring a "treasure" to stock our raffle. Proceeds go to our Mission Fund.
Program: 7:00 – 8:00 pm (or whatever!): YOU'RE GOING TO LOVE THIS!
An RSVP is required for this event.