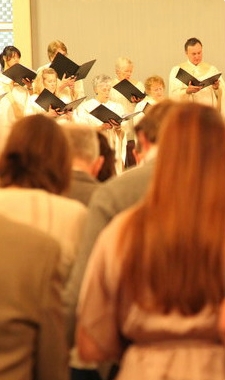 Each Sunday our Sanctuary Choir leads the worship in Hymns of Praise and performs a Choral Anthem. Throughout the year various Sundays of worship will include guest musicians, vocal soloists, the Bell Choir and Kids Kingdom Choir.
Interested in joining the choir?
The Sanctuary Choir has had a long tradition of providing exceptional music. There are 25 members in the choir that are dedicated to impacting the lives of our congregants each Sunday. The skill level of each singer ranges from novice to experienced professional. New members to the choir will always find a group of people that are kind, caring and very supportive to the learning process. The choir is open to adult musicians/singers of all skill levels.
The Sanctuary Choir sings every Sunday from mid-September to early June. Additionally, the choir performs a Christmas and Easter Concert each year.
Choir Rehearsal Times: Thursdays: 7-9 pm in the Sanctuary, Sundays: 9 am warm-up in the Sanctuary.
Choir Performance Time: 10 am Worship Service.
If you have an interest in music and would like to join our music ministry, please contact us.